Tuesday, October 31, 2006
Tuesday, October 24, 2006
A night at Bricktop was definitely in order after the Husker loss to Texas, but not without first heading over to Wasabi for some healthy food to recharge a bit. Roso, Bauer and myself indulged in sushi like it was no one else's business. You must remember we had been drinking since 8:30am or at least once we left the Governor. In the Stadium we basically had peppermint schnapps and bailey's irish cream to spike our hot chocolates which we consumed plenty due to the cold and snow. We all needed something in our ribs to stick for a night ahead of wine, women and song!
The nights partying ended up having a few early casualties. It seems a Husker loss runs deep into the subconscience of natives. The only thing I have ever heard definitively was the statistic that domestic violence increases when the Huskers lose. When I first heard this I was quite disturbed but kept my mouth shut. Now that I am considered a regular I can honestly say that this is pathetic. If you are a farmer, maybe you should go out and dig another irrigation trench when the Huskers lose. If you're a grease monkey, head down to your shop and grease it up (possibly fix something). No matter what you do you can get important things accomplished using anger, because for a brief moment it gives you focus and energy. Hitting your wife is just bullshit!
But enough about that...
Bauer and Dan mackin' it up on arrival at the Top O' Bricks.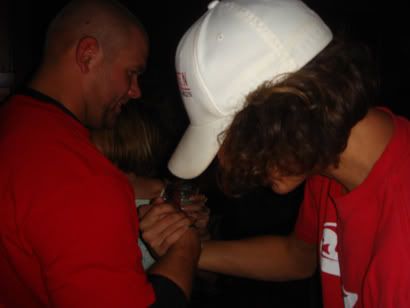 Bauer and Chief aka The Crunk Brothers would both be early victims of what I used to call the Strobe Light Syndrome.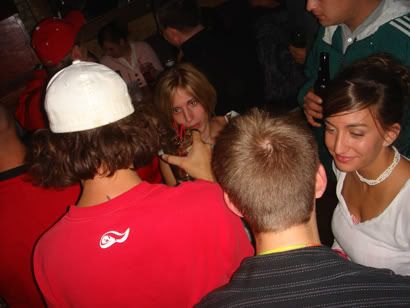 (l-r)Partial Bauer, Chief, Kristin *facing*, Josh aka DJ Crucial, Becka Josh's lovely wife *facing*. Place was getting filled.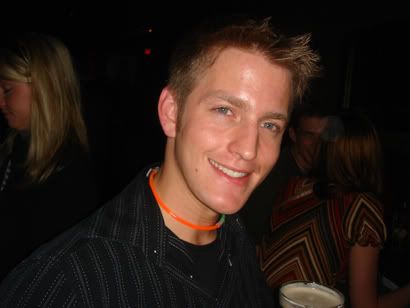 Hey, it's the man himself Josh aka DJ Crucial about to make his way to the decks to sample on the crowd his latest CD release.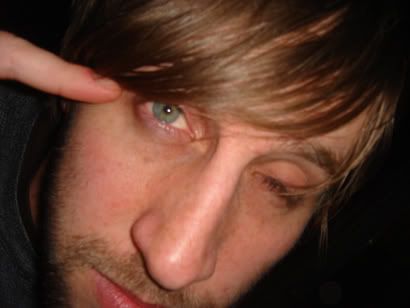 Charlie letting me know that even though one eye is closed he still has the other on the prize.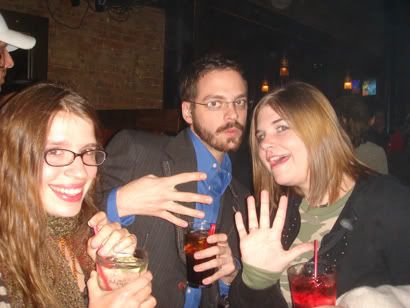 (l-r)Dyan's friend who will kill me because I forgot her name AGAIN, Russ, Dyan enjoying some fine spirits and great sounds.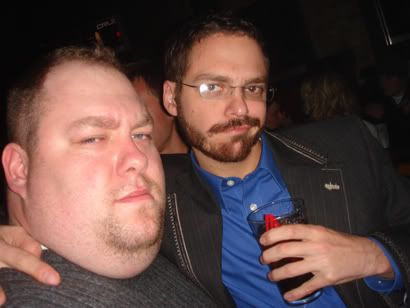 Russ and I trying to do this portrait ourselves soon realizing we shouldn't quit our day jobs.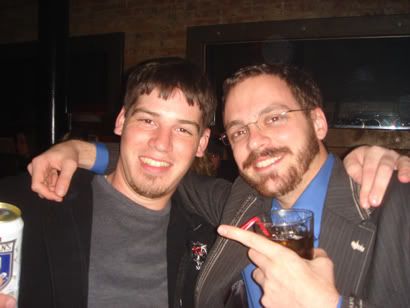 (l-r)Langtree and Russ in big pimpin' mode. Word to Langtree: you need to come out more!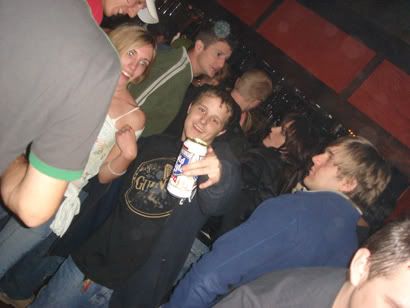 Aw yes, sneaking under the radar almost is DJ Mattman to poach a few Old Styles and party with Strong!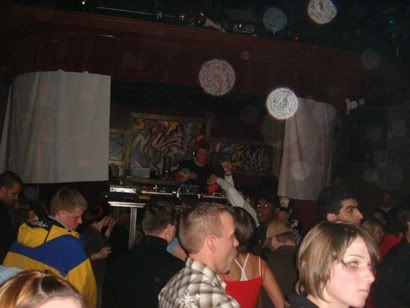 One thing I've noticed is that the flash on my camera seems to not really affect a shot in a positive manner when there is some many little reflective objects.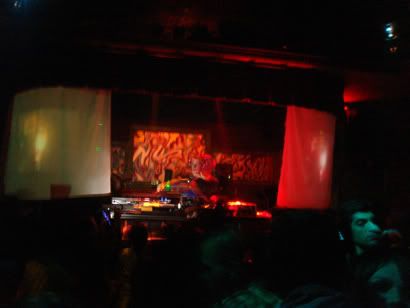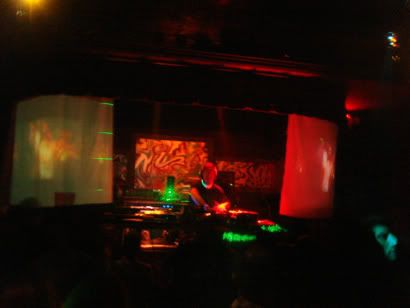 Now these two shot are MONEY. I love the way I was able to snag the neon necklace amongst the other laser effects.
After hours can get crazy, especially after covering most of the town with group in tow looking for the dopest spot. Meeting up with Garrick once again, we soon ran into Krizz then zipped off to the secret location which I'll call The Shop.
Chillin' at the shop was pretty cool since basically its a working shop with Audio system wired in, so all we had to do was hook up the decks and a mixer and the music would continue into the wee hours. One thing I wish I had brought with me was some Red Bull. For a period of four hours the only thing I had to drink was shots of Cuervo straight from the bottle. By the end of the night I felt my throat ablaze from the day's yelling and screaming. A soft drink would have been nice, indeed. These are just some random shots of the action.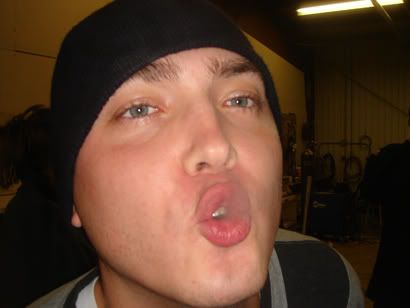 Jay Zero trying to blow smoke rings.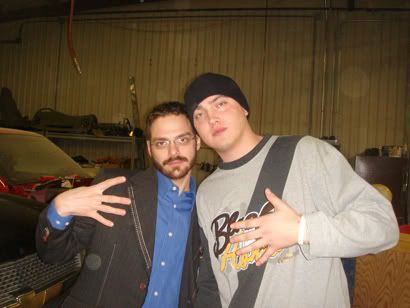 Russ and Jay of Four5 Productions.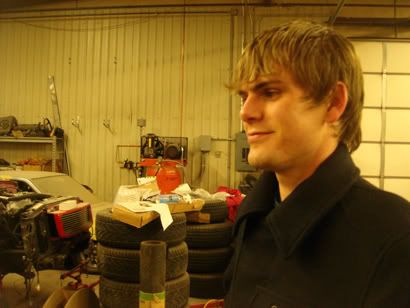 Mr. Schroeder chillin' out - absorbing the tunage.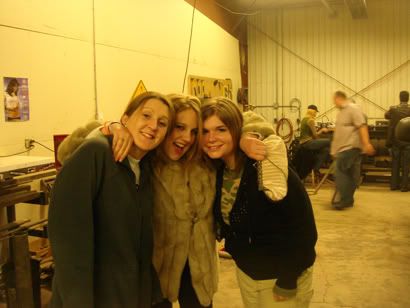 Amber, Kes and Dizz made it out to the secret location.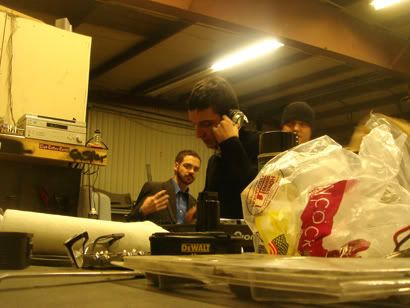 Hooking up the gear, cables is such shite!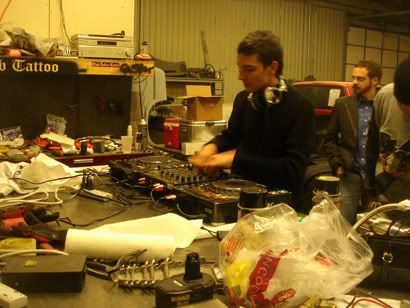 Ah, Comrad about ready to drop it.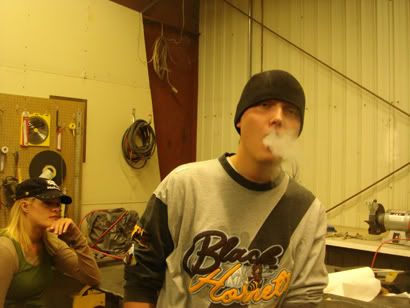 Still trying those smoke rings.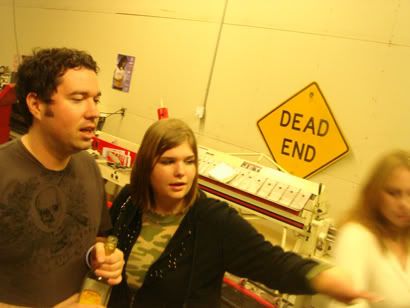 People get crunked at the dead end, hommes. Garrick, Dizz and Kes.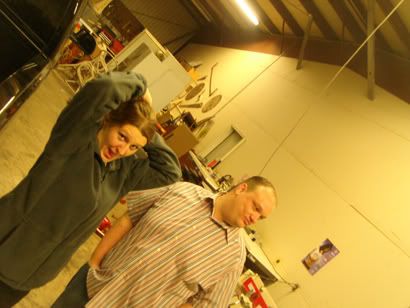 Krizz and Amber chillin' out making sure no one starts up any power tools!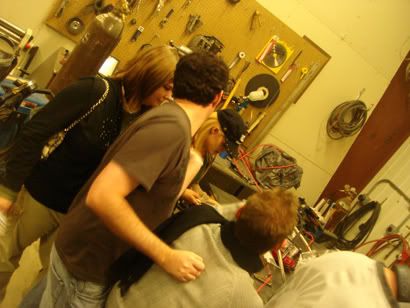 Garrick put down those tools, bruva!
Posted by

David R Marlborough
at 9:23 AM
No comments: